Writing Workshops Dublin 2023 Application
Applications for our April 2023 Dublin workshops with Stewart O'Nan and Diana Spechler close on October 15th, 2022.

2023 Workshop Dates: April 23 - 28, 2023
Writing Workshops Dublin with Stewart O'Nan and Diana Spechler brings together fiction and nonfiction writers for an intensive four days of workshops, craft seminars, one-on-one conferences, and in-depth discussions on the craft and business of writing. Our program is intentionally small and will take place in the heart of literary Dublin.

Faculty Includes: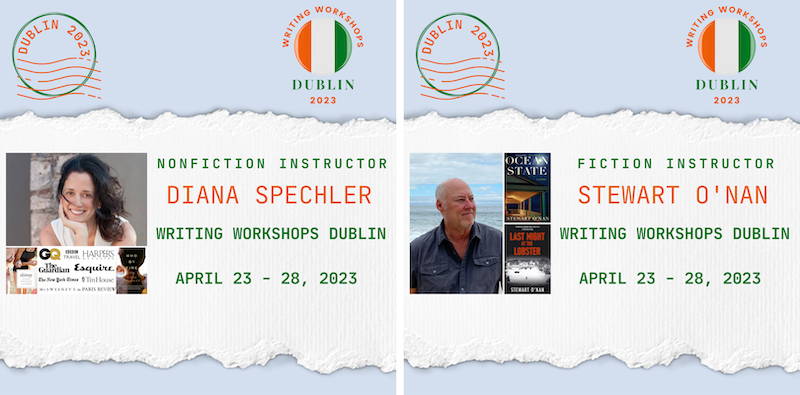 Fiction Instructor Stewart O'Nan was born and raised and lives in Pittsburgh. He's the author of twenty books, including the novels Snow Angels, A Prayer for the Dying, Last Night at the Lobster, and Emily, Alone, as well as the nonfiction bestsellers The Circus Fire and (with Stephen King) Faithful.
Nonfiction Instructor Diana Spechler is the author of the novels Who By Fire and Skinny (both Harper Perennial), and of the New York Times Opinion series Going Off. She has written for The Guardian, GQ, Washington Post, Esquire, McSweeney's Quarterly Concern, Electric Literature, New York, Paris Review Daily, The Wall Street Journal, Glimmer Train Stories, Texas Monthly, The Southern Review, Michigan Quarterly Review, Harper's, Travel + Leisure, Food & Wine, Boston Globe, National Geographic Traveler, Harper's Bazaar, Tin House Open Bar, BBC Travel, Saveur, Bon Appetit, Ploughshares, and many other publications. Her work has been included in a number of anthologies, including Indelible In The Hippocampus (McSweeney's, 2019). Spechler is also an eight-time Moth StorySLAM winner and has been featured on The Moth Radio Hour, The Moth podcast, and NPR. Her awards and honors include the Stella Kupferberg Memorial Short Story Prize, the Orlando Nonfiction Prize from A Room of Her Own Foundation, a Yaddo residency, a Hawthornden Castle residency, a Steinbeck Fellowship at San Jose State University, the writer-in-residence position at Portsmouth Abbey School, a LABA Fellowship, a fellowship from the Sozopol Fiction Seminars in Bulgaria, a Visiting Artist residency at The Betsy Hotel, and a Willapa Bay AiR residency. Her fiction has been featured on Selected Shorts and her nonfiction was a Best American Essays Notable selection. She teaches writing in the MFA program at Cedar Crest College.

What will my application include?

Brief bio informing us of your involvement in the writing and literary community, as well as any prior or forthcoming publications. (250 words max)
Purpose statement explaining why you would like to participate in Writing Workshops Hawaii. You can also discuss current manuscripts or writing projects that you might choos to workshop. (500 words max.)
Writing sample excerpt in fiction or nonfiction. This does not have to be published work, though that is acceptable, nor does it have to be a piece you plan to workshop. Complete works under the word count are not required; excerpts are acceptable. (Fiction/nonfiction: 2500 words max).
Writing Workshops Dublin is open to 18 writers for each session (9 Fiction, 9 Nonfiction). We look forward to reading your work!
Lodging at Iveagh Garden Hotel
Immerse yourself in both comfort and inspiration for 6 days, 5 nights at Iveagh Garden Hotel. This 4-star hotel is an urban oasis just steps from Grafton Street and Iveagh Gardens. Opened in February 2018, it is one of the lowest carbon footprints of any Irish Hotel and is Europe's first fully sustainable hotel. Located in the heart of this vibrant city, the Iveagh Garden Hotel is one of the best Dublin hotels near all major attractions. Your own room and breakfast are included in your workshop tuition.
Tuition
Tuition is $3,395 and includes the following:
Lodging in your own room at Iveagh Garden Hotel for 6 days, 5 nights
Free Breakfast
4-day writing workshops in small groups of no more than 9 writers
Critical feedback on two writing submissions
Several craft of writing and/or business of writing seminars
One-on-one conference with faculty
Optional afternoon activities
The time of your life
Payment Plans: accepted writers will have the option to pay their tuition in full or opt for a payment plan divided into equal monthly payments by selecting Affirm (for U.S. & Canadian residents) at checkout.
Schedule Overview
Sunday, April 23rd, 2023
3:00PM: Hotel check-in begins.
5:00PM: Meet & Greet Happy Hour
6:30PM: Dinner
Monday, April 24th - Thursday, April 27th
Mornings: Breakfast served. Workshops and one-on-one instructor meetings.
Afternoons/Evenings: Lunch Break followed by optional craft seminar, led by faculty or staff. Optional mid-afternoon activity followed by dinner.
Friday, April 28th
8:00AM-9:00AM: Goodbye breakfast.
11:00AM: Final check-out.
Optional Afternoon Activities will be included throughout the week. Full schedule detailed below.
More Details
For full details, please visit our 2023 Dublin Workshop webpage. Apply by October 15th!
Sincerely,
Blake Kimzey, WritingWorkshops.com

Follow us on Instagram.